Hey people!

Todays blog post will be about a sink... Yes, sink, that things you have in the kitchen or bathroom and which spurt out water... The sink...

Why about sinks you may ask, well because I've encountered an awesome looking sink yesterday, and I just couldn't keep this to my own...
Let's get on with it: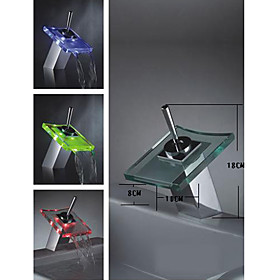 I really like this thing! it looks amazing, so straight and modern, no unneeded parts or anything useless, only beauty... And the thing that helps this sink (well technically faucet) get it's awesomeness and beauty, are the built in LED lights, which give bright colors the tap and a bit of the water (at least in the dark). The color even changes along with the temperature of the water: blue = 0-30°C green = 31°C-40°C and red is hotter than 40°C... I think it's fabulous... And when I get to choose my own, i'll definately pick one of these =D
For those of you who are having the same idea: link can be
found here
:)
See you later
PS: to those of you who were hoping for something with a little more "content" I'm having a hard time posting regularly and especially when having to post big ones... Sorry!